The Anti-MS Crew
In 2001, some of us from the EECS Department did our first Waves to Wine ride, in support of a colleague whose husband had MS. Team participants have changed from year to year, but the Anti-MS Crew has ridden every year since. We are UC Berkeley staff, students, faculty, graduates, and Berkeley friends and family. As long as you don't root for Stanford during the Big Game, you are more than welcome to join our team.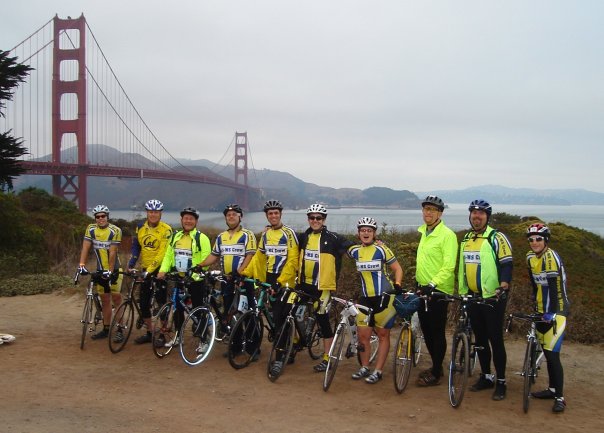 Our team hasn't yet been particularly large, but has managed to do quite well in fundraising. In the past few years, our own Prof. David Patterson has been the top individual fundraiser for the whole event, making our little team one of the top fundraising teams, even compared to the big corporate teams.

Our cycling abilities are varied -- you don't have to be a great cyclist to have fun with us. But you'll want some physical preparation if you plan to ride 75 miles in a day. Proper training will help you enjoy the ride, instead of just surviving it. We occasionally schedule local group rides, or ride with local clubs (Oakland Yellow Jackets, Grizzly Peak Cyclists, ...); some of us commute to Berkeley by bike, and we generally just ride when we can. We can help you find local routes and training, if that's what you're looking for.